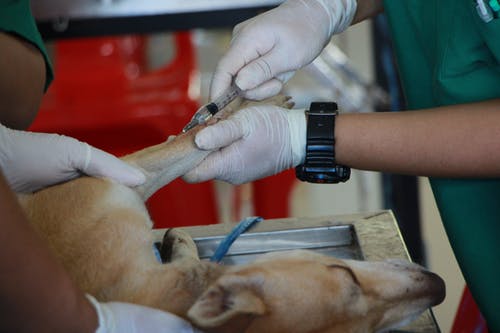 You should absolutely Vaccinate puppies., and until you do, you should not have her around other dogs, or even outside much more than is necessary for housebreaking.
In all states in the US, the rabies vaccine is necessary, and lifelong boosters are required, which is a shot every three years. In some states, a puppy dose of distemper and parvovirus is a must, but no patrons are necessary, even though vets recommend them, also every three years.
Additionally, there is a vaccine for Bordatella, or "kennel cough," which is an illness you don't want to see your dog suffer through, and few kennels will board your dog without proof of this vaccine. 
Oral Medicines
There is an oral, chewable tablet for the prevention of heartworms, something that will significantly shorten your puppy's life, so the dog should get this as well. Optionally, depending on where you live, there is a very good edible flea preventative called "Comfortis," which is less messy and more effective than topical medicines, and safer than the older oral remedies. You can get these from the vet.
You should discuss all this with your vet. You can set you up with a schedule of the required vaccines, and advise of on the free ones, as well as the parasite preventatives.
These are all for your dog's health. Our dog, whom we cared for about all preventatives, lived to a remarkable 15 1/5, which was 3 1/2 years past the mean, and passed away peacefully in sleep. As much as we miss our companion, it is a comfort to us that she lived a good and well-cared-for life.
What vaccines should one give to puppies?
I'm not entirely sure if the schedule of vaccinations is similar in all countries of the world, and not knowing which country you're in the program you are required to follow may be different to the one given below.
 Also, I spent years working at a vet, and I've concluded – like many others – that dogs are over-vaccinated. So although I'll share the vaccination schedule here, I don't follow it to the tee.
 6 to 8 weeks: Distemper, measles, parainfluenza
 10 to 12 weeks: DHPP – Distemper, hepatitis, parainfluenza, parvovirus
 12 to 24 weeks: Rabies and DHPP
 Twelve months: Rabies and DHPP (after this, I only vaccinate against Rabies every three years and DHPP vaccine every 24 months). Some vets encourage vaccination for DHPP every 12 months.
Why Is It important To Vaccinate puppies?
 The vaccinations from 6 weeks to 24 weeks mentioned above are usually required before your puppy will be allowed to socialize at dog parks, doggy daycare centers, and go for walks in public areas. I am not a vet, but these were the vaccinations we encouraged our clients to have their pups got injections. We also helped owners of a new rescue dog to get the same treatments at the intervals above since it's not always possible to know whether they have had all their shots unless the shelter had them vaccinated.