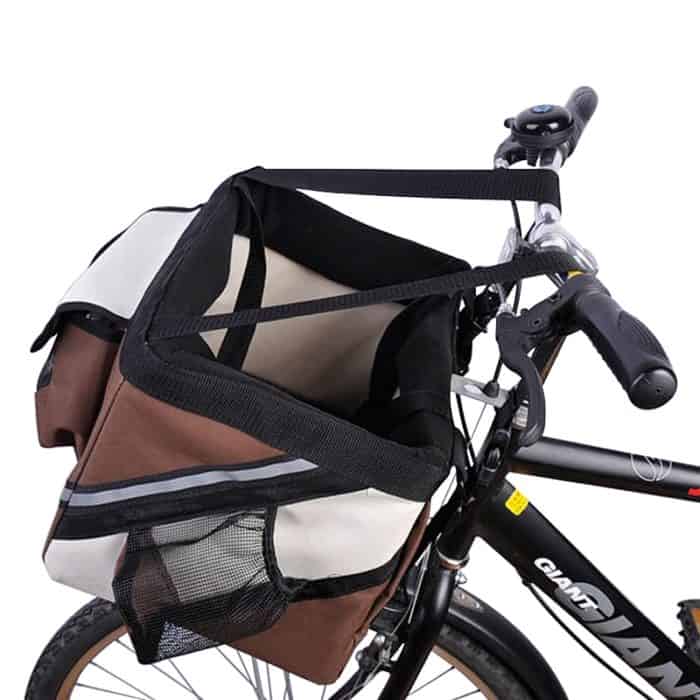 A travel carrier for cats and small dogs comes in extremely handy when you have to travel with your pets. Your pets might get anxious in the airport or aircraft and if you have them snugly contained in a travel carrier, it will make your journey easier. You cannot expect your pets to tow behind you easily as they would do at home while traveling. The strange surroundings might disturb them. These cool travel carriers are specially made keeping in mind their comfort, safety, and easy handling.
Best Travel Carrier For Cats and Small Dogs
Airline Approved Soft Sided Pet Carrier By Mr. Peanut's
This cat carrier bag is approved by the airlines also. You can easily place it under your seat. The bag is lightweight at just 3 pounds. It is available in 5 color options. You can remove the fleece bed also for cleaning. This travel carrier is priced at $40.
Airline Cat Carrier Under Seat Travel Bag By Caldwell's Pet Supply Co
This awesome cat carrier bag is extremely soft. The inserts inside can be removed for cleaning. This prevents the sides from caving in on the cat at the time of use. The polyester material of the bag is puncture-resistant and hence it cannot be damaged by your cat. The fleece pads ensure you that you can easily replace the interiors in case of any damage. The bag has a zippered feeding window in case you want to feed your cat while inside the bag. It costs $25.

Amazing Pink Pet Carrier By TailHouse: Stylish & Heavy-Duty, Airline Approved Luxury Travel Bag
This bag is excellent for carrying cats while traveling. It has a lot of features that make it quite convenient. The bag is made from nylon fabric and is very durable. The breathable mesh provided on both sides makes it easy to use. The bag also has zippers on both sides for opening. The zippers come with a lock to prevent your pets from opening. The bag also comes with a pet collar leash to prevent your pets from escaping. This one prices $35 and comes with a year's extended warranty.
AmazonBasics Soft-Sided Pet Travel Carrier
This pet carrier bag comes in three sizes. It can carry a pet weighing up to 22 pounds. In spite of being large, it can easily fit under the seats of big airplanes. The bag is machine washable and has a fleece bed. It has two openings, one at the bottom and one at the top.
Shop These Cool Travel Carrier Bags For Your Pets Online
Shoulder Carrying-Out Bag for Pets
Made of water-resistant Oxford + Mesh + PE Plate, this shoulder carrying-out bag for pets is to make your pet comfortable and rested after a long trip. It is [perfect for cats and dogs. The bag is available in four colors and three sizes.
Portable Pet Carrier Bag
Travel with your beloved dogs and keep them safe and secure inside a portable bag. This one is a bag that is specially designed to store dogs while in transit. It comes in different designs and sizes to fit dogs' different sizes. The bag is made from Jacquard polyester and foam leather.