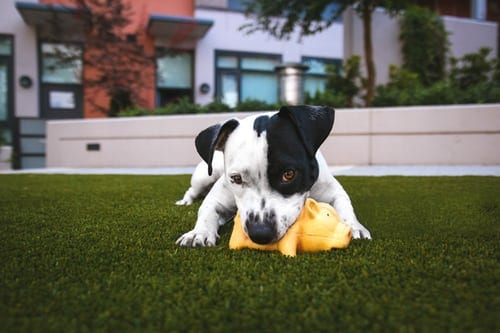 Top 50 puppy products. This list is going to get you and your puppy barking with excitement. Your pup deserves your attention and care and what better way to show that by pampering him or her with items they'll totally roll over for.
Pet products don't have to be costly to be effective. I think that stigma still lurks around the corner when pet owners try to decide on going that route or simply doing things "natural." No toys and whatnot. Just pure affection.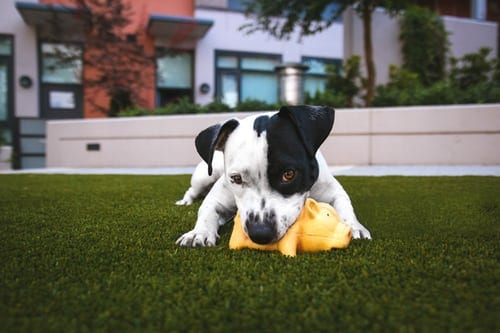 We get that. We totally understand what you mean. However, there is a researched-backed reason as to why even our four-legged loves need such kinds of pampering. In fact, they're not "pampering" to the extent of what that means.
What we have on or list is for their proper growth, development, and assimilation into your home.
Top 50 Puppy Products: Toys And Other Playthings For Pets. Why?
There have been studies that show that our furry buddies need these pet toys for brain development. These chew toys, throw balls, and the like, they act as mental stimulants which help in balancing their mood. It's true, pet toys keep them physically active. Hyperactive for others (our adorable Shitsu gets all jumpy in the most adorable way whenever she sees her chew-ball).
At the same time, having these mental stimulants allows them to unconsciously channel all that excess energy into the way they interact with it. Thus, it not only has physical benefits but mental and emotional benefits as well.
Another use of these puppy playthings is that it keeps them occupied. You and I know firsthand (for dog owners out there) that they have short attention spans. And "short" is an understatement. About 15 minutes to be more specific. That 3x less than that of an active human toddler. Wild, ain't it?
You can just imagine how much energy courses through their minds and bodies day in and day out that stimulants as simple as a toy are good enough to help calm them down and keep their emotions on level ground.
So, before we get derailed, here are the top 10 puppy products that are must-haves for your puppy.
Top 50 Puppy Products:
1. Vest For Puppies
Pups have fur that keeps their bodies warm whenever the weather's temperature goes down. It's a natural coping mechanism their bodies have to make sure they are able to manage cold weather well. However, it's still good to help them feel even warmer during the winter season. Cold season, for those who live in parts of the globe that don't experience snow.
Thus, a vest for puppies is a quick go-to. It isn't a full-body suit to allow them more freedom to move and run around. Its overall covering is made of thick cotton fabric to ensure breathability while keeping them snug and cozy all the same.
These vests come in different colors and designs, you can choose ones that fit your pup's fur color the best. Or better yet, collect each one of the 12 styles.
2. Squeak Toy For Dogs
A favorite when it comes to chewing playthings, your dog will love this squeak-toy. It's time to let your furniture, beddings, and couch to have a respite from your pawed buddy's plaything bites. Let him or her direct all that excess energy towards these adorable pieces.
They're manufactured with plush material to ensure safety and comfort as they playfully chew on this toy. It's also a good tool to train them in "fetching" and "returning" as well as "catching".
And with that very material, plush fabric makes it easier for you to wash it if it gets too grimy to use. Simply use a light soap or detergent and rinse with water. Then spin it in the washing machine dryer or simply hang it outside for its next use.
3. Ball Toy For Pet Dog
Your dog is going to have so much fun with this ball toy. Pups are going to want your attention all day. They get easily restless and are often bored whenever you leave him or her to himself or herself. Most dogs, as evidenced by research, are that way. They're almost always on the extreme end of being animated and highly elevated in terms of mood.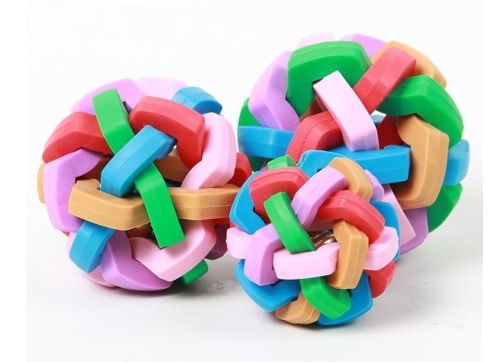 This can be a good thing because it opens doors for a really fun playtime. On the other hand, you can't be there with them 24/7. You've got work and other tasks to complete day in and day out. And whenever they're left to their senses, that high their bodies are naturally used to goes to a slump and affect them emotionally.
You can avoid this by letting your dogs have this easy-to-use ball toy. Purposefully designed with curves around its radius, it's a ball that won't quickly roll off toward any corner. Those very curves act as stoppers for your pawed friend to learn how to play with it in a fixed position. Therefore, it aids in unconscious training when it comes to focusing and keeping still.
4. Winter Hoodie For Dogs
Cold weather will always be right around the corner when you least expect it. Sometimes, even you're out to walk to pet on a sunny morning, the atmosphere shifts rapidly to give way to some of that cool breeze.
True, your pet has furry that acts as protection from the chill. But why not sweeten that up a bit more and show just how much you care for him or for her (yes, I'm still talking about dogs, folks) by letting them feel cozy in a winter hoodie for dogs.
Does the wind keep them indoors when they want to go on a stroll outside? Have them wear this amazing dog apparel to let their bodies be kept toasty despite the chilly weather.
Here's a double-line material that's thick enough to block against cold winds but is breathable because it allows air to circulate when worn.
5. Donut Bed For Cats And Dogs
If you adore your puppies as I do, I'm pretty sure their comfort is at the forefront of what you worry about when it comes to their "spot" at home. Their "marked territory" is where they stretch, snooze, and lazy when they want to.
A good way to encourage them to stay in their "spot" when it's time to head to Snoozeville. Of course, we're not talking about marking territories in the literal sense. Leg-lifting for that spritz of… ammonia? Nope. Not that. On the other hand, your dog will feel good knowing that he or she has ownership of a spot in the house. It'll make them be less insecure and more at ease to be on their own when you're busy doing chores or work.
Additionally, this donut bed is made of Oxford cloth and PP cotton. This fabric-duo is soft to the touch and is definitely a homely invitation for rest and relaxation.
6. Dog Poop Bag And Dispenser
Let's be real here, people. Yes, our dogs are adorable and loveable and all the adjectives in that context that may or may not end with the syllable "ble". On the flip side, you have to admit that cleaning up after them is nowhere near those adjectives we came up with a sentence ago. But that's the reality of pet ownership.
You and I need to be responsible for them even when it comes to the brown and icky. Don't despair just yet! The dog poop bag and dispenser will make cleaning up so much more convenient. These biodegradable poop bags are hassle-free when it comes to usage.
Pull one out of the bag dispenser (that's cutely designed to look like the poop emoji, might I add for amusement), put your hand in the bag itself to use as a kind of glove, then pick up that poop, tie it shut and throw away!
Trust me, there's no simpler way than this. I've been there and I've definitely done that. So go ahead and brave your fears! Try it out when you can (you have to get used to it one way or another *wink).
7. Dog Personalized Name Tag
No pet owner and I mean "no", wants to be in a position wherein he or she will have to ask people about the whereabouts of his or her dog. It's a nightmare that a lot of us are better off not experiencing at all if it can be helped. However, accidents do happen and when we're at our least alert, our dogs can slip past our eyes.
I know, I know. A grim paragraph. But don't get too glum just yet. The dog personalized name tag is an effective way to identify your pet in case something like what I mentioned happens. We don't want that to ever occur but it's good to be prepared.
This dog personalized name tag is large enough so that your furry buddy's name, along with your contact details can be engraved on it. But not too large that it'll be heavy around his or her neck. Not at all.
With a thickness of 0.2cm and a lightweight finish, it can hang on your pup's collar without causing discomfort. Choose from a myriad of colors to match your pup's personality!
8. Duck Mouth Design Silicone Dog Mask Muzzle
Before anything else, it's important to note that muzzles have one specific purpose, and that's to train and/or stop your puppy from biting. We're not talking about play-biting here. It's not meant for punishment but for training. That's the reason why this duck mouth design silicone dog mask muzzle is manufactured with nylon and silicone. To make the mouth-clamper as comfortable as possible.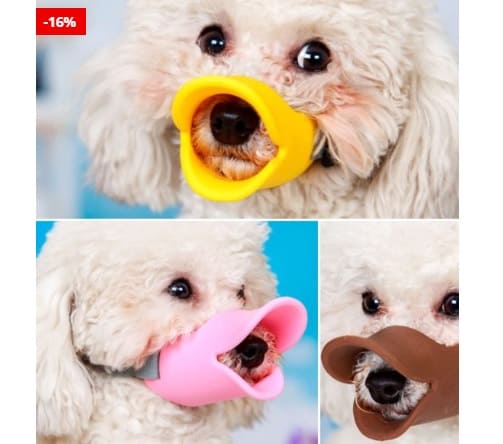 In fact, expert dog trainers have said that muzzles should be strapped on for only about a maximum of 20 minutes. Less if your pet is a tad more active than average. To further this, seek expert advice about how to use a muzzle and when not to use it.
That said, these silicone masks offer breathability to your dog because of its open-snout design at the front. It also has a secure buckle to make sure it stays on even if your pet lovey runs around with it on.
9. Interactive Pet Food Treat Ball Bowl
There's a fun, new way to hand out treats to your pet and it's through the interactive pet food treat ball bowl. Your puppy can push, spin and roll this treat ball around as much as he or she wants while getting treats from this item's treat dispenser hole.
Yes, it's as much a chew ball as any other with a non-toxic and non-order surface.
Another thing to note about this pet product is that it's a way of monitoring how much your puppy eats. The rotating slot is meant to control the number of treats he or she gets. You got. It's a slow feeder, which is an excellent way to aid proper digestion and eating habits.
10. Foldable Pet Playpen
So you're trying to do finish chores at home but your cute little pup is full of energy, running and bouncing around here and there? Let him or her play in a foldable pet playpen. Once set up, its diameters are spacious enough for it to play and be the energetic pup he or she is.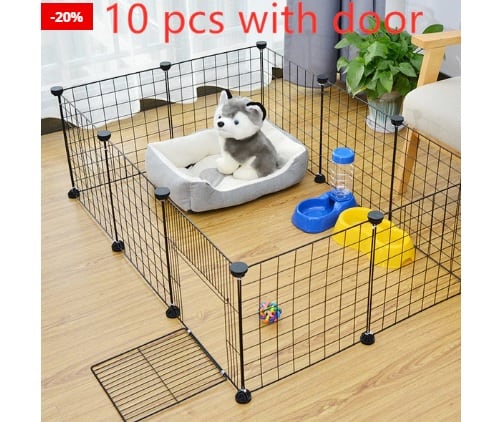 This pet playpen keeps your pet safe and in place while you get busy with work you need to do at home. With a height and an all-around width of 35cm x 35cm, it's the ideal playpen for small puppies like yours.
And whenever you feel like shifting the spot outdoors so that both you and your pet can get a load of that fresh air, this is a moveable, foldable and collapsible open-shelter so transporting it from one place to another won't be a problem.
11. 2-Sided Professional Pet Hair Brush
Your precious little puppies need to get their cleaned and maintained just as much as a human does. However, they have much much more hair than you could ever grow. Thus taking up a long period of your time to maintain. That is why you will want this 2-Sided Professional Pet Hair Brush.
This simple but effective tool will ensure that your precious little pup maintains his or her coat in perfect condition. And who doesn't want their pup to look their best? So what are you waiting for? Get one today.
12. Nylon Leash for Pets
Your pets are one energetic little buddy. The problem is we cannot have as much energy as our little critters. However, that does not mean that we want them to be lazy like us. That is why you should get the Nylon Leash for Pets.
This leash is built out of high-grade nylon to ensure that no matter the rambunctious energy of your little pup, you will never have to worry about them breaking the rope away. This is perfect for much larger dogs who have a lot more power in them.
13. Collapsible Silicone Bowl
Going around with your own little pups is always a treat to behold. But one of the things that can be a bit of a problem is that they are always so hungry. That is why you will want to bring this Collapsible Silicone Bowl. That way you don't have to worry about feeding your doggo with the fear of making a mess.
14. Hair Removal Comb For Dogs Cat
Dogs shed. That is something that you cannot avoid no matter what you do. Although you can bring your pups to a groom or a vet, that is both expensive and time-consuming though. That is why you will definitely have this Hair Removal Comb For Dogs Cat for all your problems. This handy little device can simply snip your pet's excess fur with ease and speed like no other.
14. Digital Scale Spoon
Puppies can and will eat anything that they can get their mouth on. However, since they are still young, you will need to be the one to manage their diet or else they run the risk of getting sick and such. And that is why you definitely want this Digital Scale Spoon. Remember, your puppies' health is the primary concern.
15. Treat-Dispensing Chew Toy
Teaching your puppies at a young age is always the best way they can absorb what you are trying to teach them. Unfortunately, they can be pretty energetic and would need a lot of attention before they will start listening to your commands. However, with this Treat Dispensing Chew Toy, you can get them to pay more attention to you fast.
16. Pet Car Seat Cover
Your puppies deserve all the love you can possibly give. And with traveling such a common thing nowadays, you want to explore the world with your lovable mutt wherever you go. That is why you will want this Pet Car Seat Cover. You just simply attach the seat to the back row of your vehicle and just like that you already have a place for your precious mutt to rest their weary head.
17. LED Nylon Dog Collar
Dogs, especially puppies, love to roam around due to their high energies. They are like babies where all they want to do is go around and play all the time. And that also includes during the night. There will be times where you have no choice but to play with them in the wee hours of the night. Thus the need for this LED Nylon Dog Collar to keep track of them when you go out at night.
18. Soft Fleece Blanket For Pets
Your pups deserve all the love you can give them. After all, they give their 100% love to you all the time as well. And what better way to show your appreciation for them than to give them a place where they can be the most comfortable? That is why you will want this Soft Fleece Blanket For Pets to show your full appreciation.
19. Personalized Dog Collar
Nothing says "this is my dog, he/she belongs to me" more than something personalized. And what's more, if their personal identification is dazzled up to the nines? That is why you will want this Personalized Dog Collar to truly showcase your affection and dedication to your precious little ones.
20. Pet Dog Vest Leash Harness
Not all dogs are created equally. Some dogs are much larger than others, while other times they are almost minuscule in nature. And that is why you will want this Pet Dog Vest Leash Harness to hold your precious larger dogs tight. In addition, these harnesses are less constricting compared to other types of leashes that are wrapping around the neck of your dog.
21. Pet Nail Clippers
Dogs are similar to human beings. They get old, get sick, have emotions, and yes, they also grow long nails. These nails can hurt when they grow to such lengths. And the hard part is they cannot just simply cut it themselves. Thus the Pet Nail Clippers is the perfect tool for the job.
22. USB Rechargeable Flashing Night Collars
If a reflectorized tape is not your thing when it comes to lighting collars, then you would love this next one. This USB Rechargeable Flashing Night Collars can help spot your precious doggo no matter where they might end up. And don't worry the bright LEDs that are equipped onto the collars are tested to be safe for the animals. They will not go blind by the brightness of those collars.
23. Waterproof Smart Mini GPS Tracker
Dogs love to explore. It's in their nature. However, as much as we love our precious little mutts, we cannot keep track of their whereabouts 24/7. That is where this handy Waterproof Smart Mini GPS Tracker kicks in. With this, you will no longer have to worry about your puppy running around getting lost. Bonus fact, you can use this to track other important valuables like keys and wallets.
24. LED Pet Collar Pendant
One issue with light-up collars is that your dogs may not appreciate the blinding light that comes with it, although they have been tested to emit only an appropriate amount of light that is safe for the dogs. They could get disoriented or worse, sick from prolonged exposure to the lights. Although our previous entries were tested to be working perfectly with no repercussions, you might still want to look for other options. And that is why we bring you this LED Pet Collar Pendant.
25. Dog Car Seat Belt
Have you ever seen those movies where the dog would bring his head out the window of a moving car? Well, if you have a dog you would realize that it's true. But there are rare cases where they get too excited and they jump off the car. Rare, but could still happen. That is why you will want this Dog Car Seat Belt to keep them safe and secure while in the car.
26. 2-Way Pet Hair Remover Roller
Grooming can only take your dog's fur so far though. In the end, they will reach a point where they will have too much hair. And that is never good for them and for you. That is why you will need this 2-Way Pet Hair Remover Roller to help remove all that unneeded excess hair.
This tool will gently remove all those excess hair by balancing out to create a perfectly even symmetrical shine to your dog. And the best part is that it is completely harmless to your pets.
27. Anti-Barking Device
Puppies are obviously not house-trained yet. And that can be a bother to you, your family, and your neighbors. One of the worst things to happen is your dog would start barking at random things in the middle of the night, waking everyone in the neighborhood. Don't be that kind of dog owner. Instead, train them with this Anti-Barking Device.
28. Finger Toothbrush For Pets
Your precious little pups have growing teeth like a baby. What is often overlooked in dog care though is their teeth. You might not know this but dogs can also be infected with cavities. That is why you need this Finger Toothbrush For Pets to keep their teeth nice and strong. Just a friendly reminder that this tool works best for puppies and kittens. When they are older, you may need to resort to using other more effective teeth cleaning products.
29. Hair Removal Comb For Pets
Your pets are a hairy bunch. Even if you have a breed of dog that does not grow much fur, they will still have more than what you want. However, there is an easy way to remove all those annoying extra fur hanging around. And that is with this Hair Removal Comb For Pets.
30. Multifunction Rubber Chew Ball : Toy for Dogs
Dogs deserve to go out and play. But in truth, all they want is to play with their masters. So give your dogs some love and play some games with them to show them how much you love them back. And there is no better way to do that than with this Multifunction Rubber Chew Ball: Toy for Dogs.
31. Plastic Pet Flea Remover Tool
Dogs are prone to diseases and parasites. That is the most unfortunate truth. And one of the things that are almost unavoidable is the flea. These annoying little bugs burrow deep inside the skin of your dog and drain them of their blood. Luckily, there is a way to remove them easily. And that is with using this Plastic Pet Flea Remover Tool.
32. Reflectorized Dog Raincoat
One of the pains of dog ownership is dealing with their furs when it rains. And believe me, they will get extremely wet. Once they start shaking that fur though, you can bet all the water will be spread out everywhere. That is why you will want this Reflectorized Dog Raincoat to keep them nice and dry.
33. Running Elasticity Hand Free Dog Leash
Dogs are not just great companions but they can also be fantastic guards or workout buddies. And one of the best ways to train them is by running. However, if you have ever tried to outrun a dog then you are in an unlucky situation because dogs are incredibly fast. That is why you will want this Running Elasticity Hand Free Dog Leash to even the playing field.
34. Soft and Warm Winter Blanket for Pets
Your puppies might seem all nice and warm with all their furs, but they can also be prone to cold. And one way to keep them snugged up during their slumber is by using one of these Soft and Warm Winter Blankets for Pets.
35. Soft and Washable Dog Basket Bed
Your precious little dogs deserve the best sleep imaginable. So why not get them the softest and most comfortable one you can find. However, you need to know what kind of bed can be classified as the best. Well first, you will definitely want something that is easily washable for your sake. Secondly, it has to be large and soft for it to be comfortable for your weary pup. And this Soft and Washable Dog Basket Bed can get the job done and more.
36. Stainless Steel Dog Food Bowl with Anti-Slip Pad
Dogs do not have the grace and sensibility in the dining table compared to us humans. It is in their instinct to just chow down on food that's been given to them. Unfortunately, that could result in them making quite a big mess. And that is where the Stainless Steel Dog Food Bowl with Anti-Slip Pad will be your best friend in cleaning.
37. Waterproof Unique Designs Dog Jacket
There are people out there who like to show their appreciation by dressing up their dogs in outfits. Now there is absolutely nothing wrong with that as long as the dog remains comfortable. And this Waterproof Unique Designs Dog Jacket is one of the most comfortable ones there is.
38. Waterproof Winter Dog Vest
The cold is always a tough time for animals, especially dogs. Unlike humans, we can just simply throw in more clothes for warmth while your dogs suffer and try to power out the cold by moving around so much. Well, you don't have to worry about that anymore because there is this Waterproof Winter Dog Vest for those cold nights.
39. Waterproof Dog Jacket
This is another jacket that can work perfectly for your precious dog, only this time this is built with the water in mind. Make them wear this Waterproof Dog Jacket for protection against extreme rains and floods. Not only that, but this is also highly versatile and comfortable to use.
40. Multi-Purpose Cute Pet Food Scoop
A dog's nutritional value is important if you want them to grow up big and strong. And one way to do so is by balancing out the amount of food that they eat. This Multi-Purpose Cute Pet Food Scoop is great for measuring your dogs needed intake.
41. Three Sided Pet Toothbrush
Once your dog gets older, you will realize that your old way of brushing their teeth is not going to be as effective as before. And that is why you will want something more powerful and effective. Something like this Three Sided Pet Toothbrush.
42. Pet Shoulder Travel Sling Bag
There is such a category of dog sizes called toy dogs. And, just like the name suggests, are sized like a regular toy. These dogs are incredibly tiny. So much so that they can actually fit in your bag. However, they still deserve all the love that you can give even if they are built as a small package. Thus this Pet Shoulder Travel Sling Bag is the perfect place for them on-the-go.
43. Automatic Cat Dog Pet Water Fountain
Your pets need water to satiate their thirst. That should be the simple basics. However, that does not mean that you need to just settle with just pouring water on some dingy bowl. Instead, why not give your precious pet something special to feed water for them. And this Automatic Cat Dog Pet Water Fountain is the perfect tool to use.
44. Breathable Travel Backpack for Pet
Every once in a while we go out and travel via plane or boat. And one thing you will definitely need is to find a way to bring your precious dogs along. That is where the Breathable Travel Backpack for Pet comes in. The best part about this product is it's build. They can withstand large dogs without breaking and they are stable so your dogs won't have to feel like they are constantly having motion sickness.
45. TrueLove Reflective Nylon Dog Harness
Safety is your first priority as a dog owner. Your dog's safety I mean. You don't want your dog to run out in the middle of the night and get taken by the pound or worse get into an accident. That is why you would want to keep them safe by getting your hands on one of these TrueLove Reflective Nylon Dog Harness.
46. 1 Pc. Durable Braided Rope Bone for Puppies
Dogs love to play tug-of-war and this is the perfect toy for that. It is also a great substitute for real bones which could actually do more harm to your puppy than anything else. This toy will also prevent your puppy from chewing on things you don't want them to chew on such as pillows. papers and the like. This toy will keep them busy and away from your precious furniture.
47. Anti-Barking Device
Training a dog can be an extremely daunting task. Unlike regular humans, dogs cannot perceive the human language so we have to rely on gestures to get our dog's attention. And one of the most common training challenges any trainer will face is to learn to teach your dog when and when not to bark. Thus this Anti-Barking Device is made to help you train your dog in ease. WARNING: never abuse this gadget as a means to punish your dog as it releases a very high frequency that only dogs can hear.
48. Waterproof Reusable Dog Bed Mats
Sometimes your dog will prefer to sleep on a flat mat rather than on the bed. Different dogs have different wants so there is nothing we can do about that. However, just because they want to sleep on the floor, does not mean they cannot sleep in peace and relaxation. Introducing the Waterproof Reusable Dog Bed Mats.
49. Attractive Ball Toy For Pet Dog
Another toy with the assorted vibrant color feature is the attractive ball toy for the pet dogs. This is the perfect choice for your pet dog as they will spend hours chasing it around and having fun. It is great for entertaining and training pets while playing fetch. The ball comes in random vibrant colors and comes in small, medium, or large. This is great for any do size you may have.
50. Foot Clean Cups for Dogs and Cats
Let's face it, dogs can and will cause a mess. They cannot help it. It is part of their nature and deep down you know they don't know that what they are doing is wrong until it is too late. Well, that does not always have to be the case because you can simply train them to wash their feet before stepping foot inside the house. How is that possible? You might ask. Well, all you have to do is use one of these Foot Clean Cups for Dogs and Cats.