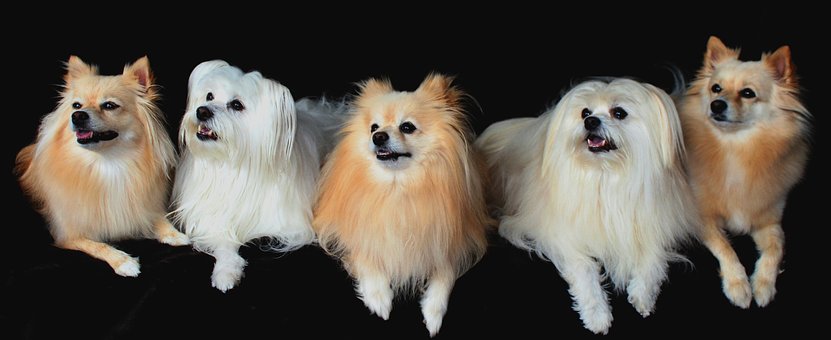 Pomeranians are famous miniature or toy dogs known for their plush appearance and sweet expression. If you are in the lookout of an intelligent, caring, and loyal dog, then you should adopt a Pomeranian. Nevertheless, out of the thousands of people who adopt these puppies, only a few know these puppies are inquisitive, strong and active. Hence, they require a lot of special care and exercise. These are perfect companions and friendly pets for the ones who take pleasures in staying indoors. If you want to keep your Pomeranian puppy happy and comfortable, make sure that you take good care of the pooch by following the steps mentioned below:
Shower The Puppies With Care And Love
Just like babies need love and affection, so do the Poms. Showing your Pom with a lot of care and affection will help you establish an instant bond with it. The puppies reciprocate immediately. They feel comfortable and even recognize you as their parents. The bonding you create comes in handy while trying to train the pooch for regular chores. Poms crave for attention from human friends.
Nevertheless, this does not mean that you should always carry them in your arms. Yes, they demand love, but at the same time, they prefer owners respecting their space and not feeling overwhelmed. One good way of meeting their emotional requirements is by petting them with positive reinforcement and good words.
Give Them The Right Food
Pom owners have a tough time deciding on the right food for these canines. This is because the puppies are prone to food allergies. Food allergies in Poms can result in terrible skin problems like itchiness and rash, along with stomach distress. Therefore, it is crucial for you to put in a good time in choosing the absolute perfect food for your puppy. Avoid some common triggers like artificial coloring, chemical preservatives, grains and wheat, and all kinds of by-products. Go for food products that have the perfect levels of proteins and various other nutrients. Go for products containing oatmeal, salmon, and turkey along with DHA.
Hair Care For The Puppies Is Essential
Pomeranians experience a lot of hair and fur fall when they are between four and eight months old. The procedure takes place for giving way to adult hair while getting rid of puppy coat. This is a natural process that you should not worry about. Nevertheless, you should take good care of the puppy's hair during the initial shedding period. Daily brushing is always recommended. This helps in speeding up the hair shedding process while making the pooch accustomed to the habit. Regular brushing will soon become a very pleasant activity for the puppy.
Exercise And Training
It is quite surprising to find these little pooches so athletic and active. They are always up for canine, agility and obedience sports. They also love learning new tricks and showing them off. You need to be consistent and patient in training them. While these puppies do not require extensive exercising, they like accompanying their parents on walks and runs.
A Pomeranian puppy is robust and health and affectionate and docile. However, it requires a lot of care and attention so it can live a healthy and long life.