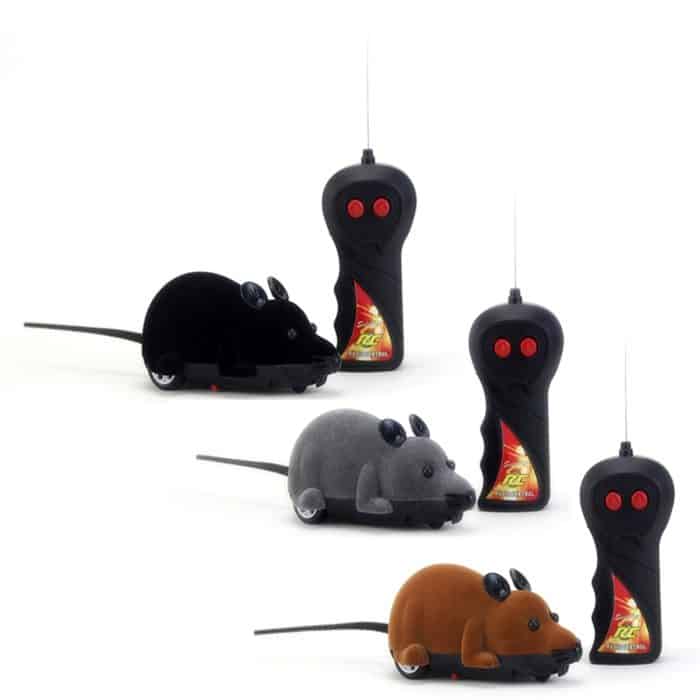 First things first, a remote control toy is a smart toy, and pets might be amazed to play with these toys. There is no dearth of such toys in the market. Make an informed choice to instill a bit of intelligence and smartness into your pet. Going for a smart toy only to find that it does not perform well might take a toll on the mental growth potential of your pet. Go for a sizeable toy that is not just smart but something informative or something worth understanding for your cat or your dog. For example, you can go for a mouse pet RC toy that can be both tricky and the right way of making your pet more active at the same time.
This remote control mouse toy is of suitable quality plastic. It will give your pet the right amount of exercise time as well. This remote control toy is perfect for dogs and cats of all sizes, as it is available in a size of 15 x 9 x 6 cm. It runs on AAA battery. This toy is one little thing that you can use most effectively for keeping your pets active and engaged for a very long time.
This toy is not enough for you to feed your pet on time to keep it satisfied. There is yet another thing you need to ponder on when you have a pet to take care of at home. Ensuring the physical fitness of your pet is essential, and you can do this by keeping him running and active throughout the day.
Interactive And Fun Mouse Pet Toy For Pets
This toy helps in motivating your pet to exercise and play for an extended period. Many pet owners are aware of the fact that cats love chasing a mouse. It is the reason why this remote control mouse toy will go a long way in attracting the attention of your pet cat. Your cat will love playing with this toy.
As for the choice, there are several variants available for you in terms of color. The toy set comes complete with one remote control and a mouse. There are wheels on the bottom of the mouse, allowing the toy to move faster. It challenges the cat in your home and inspires it to run faster behind the mouse that is fast escaping.
Perfect Toy For Animal Enthusiasts
This toy is not just ideal for cats and dogs but one convenient product even for the pet owners. The other toys available in the market need to be operated manually. The pet owners need to run after them. It is not the case with this mouse pet toy. This is because it runs on batteries and can easily be operated using a remote control.
Pet owners can easily control the distance covered by this toy without making their pets feel bored. They can play with their pets while being comfortable on their chairs.