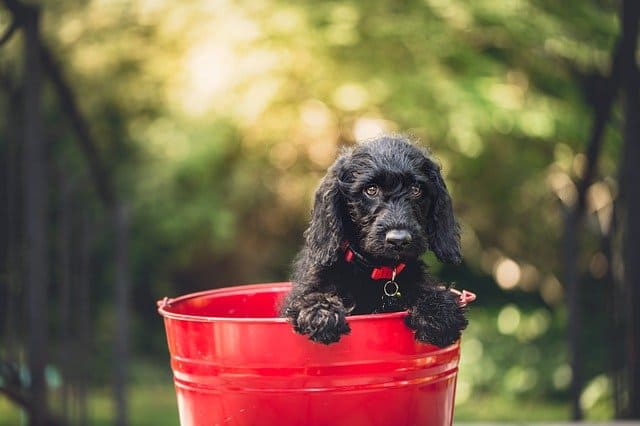 Initially, it might seem quite easy for you to choose right food for Rottweiler puppies. After all, the market these days is packed with several brands of puppy food, right? But sometimes more choices in specific shopping categories can land you in trouble, and the same goes for Rottweiler puppy food. The entire food selection procedure for this dog breed is highly complicated. You will know why in the information that follows.
Rottweilers And Their Energy Requirements
The Rottweilers are into a lot of walking and running as puppies. This means that they require very high levels of energy. Also, they require proper exercising sessions for remaining in shape mainly because they are muscular. Thus, proper diet for young Rottweilers should consist of good quantities of protein and essential fat. These nutrients are enough for keeping the dog working all day. Ensure that your pup gets enough calories. If your Rottweiler does not get sufficient calories, it might become underweight and skinny.
Feeding A Rottweiler Puppy
Rottweilers are brawny, faithful, confident, and peaceful companions and generally weigh between 110 and 115 pounds. Since they are a muscular dog breed, their diet should be rich in carbohydrates, healthy fats, and lean protein. A puppy Rottweiler should be fed with bone four days during the week along with vegetables. It would be enough to feed the pup with beef and veggies once during the week. You should also work on including raw meaty bones like neck and knuckle on one or two days. Make sure to feed the puppy with 3000 mg of quality fish oil regularly during its development stage.
Special Diet Considerations
Rottweilers have a lifespan of eight to ten years. This dog breed is susceptible to obesity, and thus, a good quality balanced diet with mild calorie content will be perfect. However, owners should also have a close sight of health problems. To overcome these health issues, you need to give them proper foods. A special diet consisting of fat and lean protein should be offered to take charge of health issues like elbow dysplasia, cataracts, allergies, hypothyroidism, cardiomyopathy, hip dysplasia, and subaortic stenosis.
Diet For Coat Quality And Good Skin
Rottweilers require health fat content in their diet for a shiny coat and bright skin. These dogs boast of double-coat protection that offers them their elegance. Itchy skin, dandruff, and poor coat appearance are the results of the dog not consuming sufficient healthy fats. Feeding the breed with good fat quantities can keep its skin nourished and moisturized.
What About Commercial Food For Rottweilers
One good advantage of getting commercial food for your Rottweiler pup is that you will not have to work very hard on preparing things yourself. Also, good branded dog food comes with the assurance of quality. So, there is no need for you to be doubtful. However, things like ingredients, animal protein content, and proper certification need to be considered when buying commercial dog food.
The rule of thumb for feeding Rottweiler puppies is feeding them around 200 to 250 grams of their total body weight. The pups should not be offered a diet containing soy, produced meals, corn, and wheat.