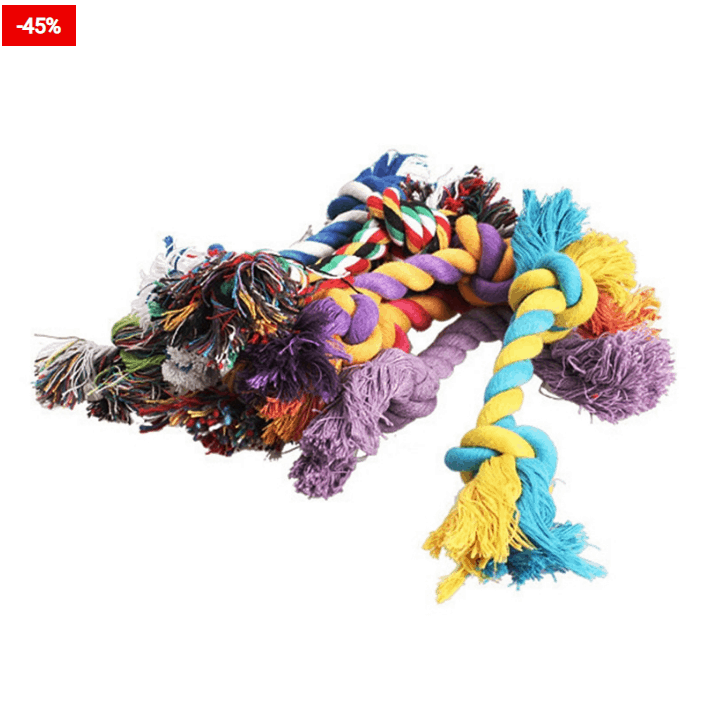 Rope toys for dogs are a popular choice for playing fetch. These can also be used in games of tug-of-war. But there are so many rope toys available on the market, that to select the best ones can be quite tricky. Here we have short-listed some of the best varieties of rope toys for all dogs. The best four were selected after reviewing 50 rope toys. Each was tested for their durability, suitability for all breeds, and quality.
4 Best Rope Toys For Dogs
Mammoth 3 Knot Rope
This one is a cotton-blend 3-knot rope that is available in a range of sizes. The mammoth brand manufactures around 100 different rope toys in every style possible. This basic rope has 3 knots, 2 on the end and 1 in the middle. It is quite durable and will not tear apart while playing rough games like tug-of-war. The mini Mammoth 3-knot rope comes at 10 inches. The small one – 15 inches, medium – 20 inches, large – 25 inches and the X-large one is available at 36 inches.
Romp-N-Roll by Jolly Pets – Rope Toy With Ball
This cool rope with ball toy for dogs was one of the best rope toys for dogs. Whether you have a hulking Doberman or a tiny puppy, there is a size available for each kind. This rope + ball toy is available in 4 ½ inches, 6 inches, and 8 inches. You get it in various colors such as red, blue and purple. It is a rope toy that can be kicked. The plastic ball is quite heavy and these can be used for games of fetch. It is a heavy-duty toy and the ball pops back to its original shape regardless of being chewed upon.
Mammoth 5 Knot Rope Toy
This 72-inch rope toy is perfect for giant dog breeds. It is quite long and needs a lot of space for storage. The extra length of this toy gives plenty of space for your dog to bite upon. The extra length enables many dogs to play tug-of-war with this toy at once. It has five knots instead of 3, else it is almost the same as the Mammoth 3 knot rope toy.
Kong Tugger Knots
This one is the best plush rope toy for dogs. It is quite durable and is available in three fun animal designs. This one is available in two sizes: small at 13 inches and the large one at 20 inches length. Only the head of the fun animal design is filled with stuffing. When the dog bites or chews the plush toy, the teeth won't sink into the stuffing and hence won't damage it.
Shop These Cool Rope Toys For Dogs
1 Pc. Durable Braided Rope Bone for Puppies
Surprise your dog with this lovely rope bone that he can chew and play with. This one is a great substitute for actual bones. It will save you the trouble of having your puppies chew on your important documents or items at home. Now you can give your puppy a good time by letting him play with this bone-shaped knot around. It is an adorable gift for puppy and dog lover's out there. It is made from cotton and is shaped like a bone. The length is around 15 cm long.