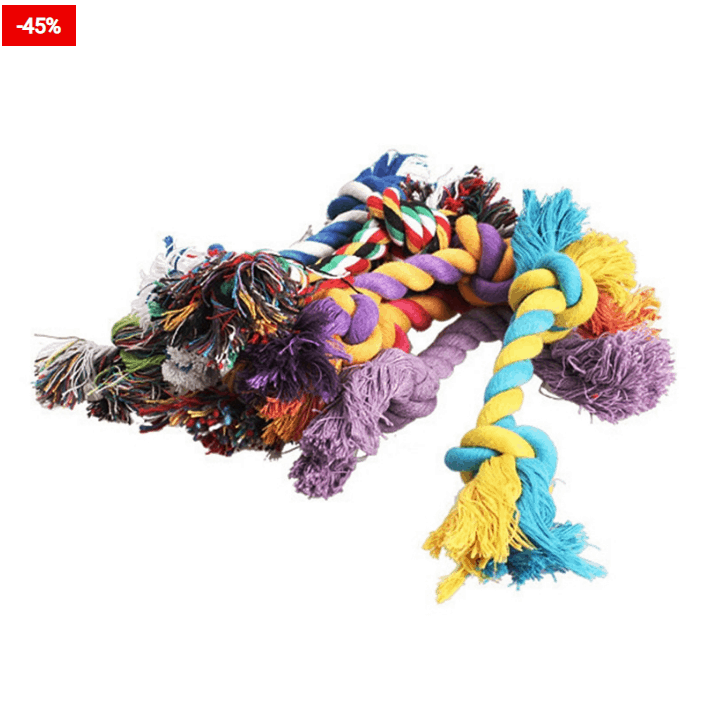 Puppies chew, like babies, they chew when they are teething. But unlike babies, they keep on chewing. They seem to go through a super chewing stage as they approach a year of age. Puppies especially like to chew stuffed furniture, wooden objects, leather objects, and that perennial favorite, shoes. Because you can't pick up everything, don't let your puppy wander around the house unsupervised. To solve this chewing problem of your puppy, we just have the best thing, puppy chew toy rope knot. So, the next time your puppy starts chewing on anything, just hand him these puppy chew toys.
Puppies explore the world through their mouths, so they'll chew anything they can sink their teeth into. By providing them with toys that indulge their teething instincts, you're more likely to spare your shoes and socks from destruction. During a puppy's period of rapid development, from 2-months-old to 10-months-old, it's important to give them appropriate toys, and both breed and personality can play a role in what toys might become your pup's favorites. If your puppy bursts with energy and enjoys a challenge, they'll love a toy that they can play with or one that dispenses treats. Although it's perfectly normal for a puppy to chew on furniture, shoes, shrubbery and such, these behaviors can be a problem for you. A puppy won't magically outgrow these behaviors as he matures. Instead, you must shape your puppy's behaviors and teach him which ones are acceptable and which aren't.
If you are thinking of buying a puppy there are certain things that you should know about them. Puppies love to chew, so before you adopt them prepare yourself for all this chewing. No matter how you get a puppy, it is important that you look after its well-being. There are many things that you need to prepare if you get a puppy. You have to consider what kind of dog food is good for its species. Besides, you have to find toys to train and entertain them. One of the most simple reasons why your dog loves to chew on toys is because it is still a puppy. At this age, it is still curious about the things around it. So, it likes to explore stuff and chew on stuff because they are playful. Moreover, some dogs might even develop a good association with their chew toys.
Aside from being a source of activity, these rope knot chew toys are also good for the teeth of the puppies. Every time that they play with it, they are releasing some of the pressure from their teeth. It helps clean the plaque that has to build upon their teeth. Thus, even as they play, they are able to clean their teeth. Furthermore, the chewing of the toy results in the massaging of the gums. You can either leave the toy with your puppy to play with the whole day or take it out from time to time.
Features
A great chew toy for your puppies to play with
Let your puppy enjoy playing while cleaning its teeth and massaging the gums.
Made out of cotton.