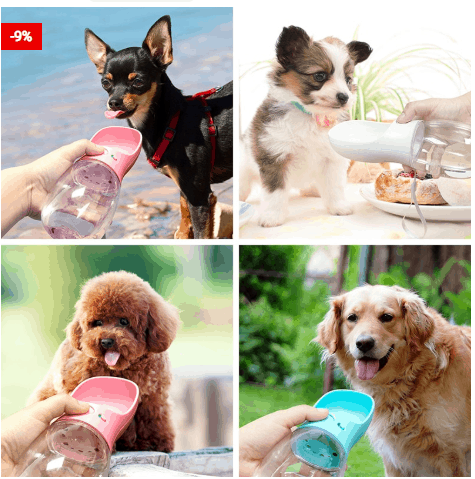 Every pet owner knows how important it is to keep your pets hydrated while you are taking them for a walk. That's why you need this portable dog water bottle. This bottle has a built-in feeding bowl. So that water flows from the tank to the small bowel, and your dog drinks water from it directly. There's no need for you to bring a separate container for drinking because all you need is in this portable dog water bottle. This water bottle has two parts. Half of it is a water tank that stores your dog's drinking water. While the other half is a small curved drinking bowl. This portion of the product is deep enough so your dog can adequately drink water from it. It is a handheld bottle, so no need for you to kneel or bend over to give your pet its water.
Features Of Portable Dog Water Bottle Dispenser
With this portable dog water bottle, you can now give your pet water without the need to carry a separate drinking bowl. This bottle has two parts: a tank to store water and a rounded cup end that saves the water so your pet can directly drink from it. It has a button that controls the flow of water and a lock that prevents the water from back flowing and leaking. The material of the product is ABS Plastic, and the product variant is 350 ml: 75mm x 208mm, 550 ml: 90mm x 240 mm, 480 ml: 75mm x 260 mm.
We human beings are very selfish. For our entertainment and fun, we can do anything and this one of the reasons we keep a pet. But gradually the pets that we keep become an essential part of our life. Many of you must be having pets. It would be best if you were very attached to your pet. Your pet must be giving you that extra smile that the busy life takes away from you.
Push Button To Control Water Flow
This product is designed for the user's convenience. You don't want to overflow the drinking bowl portion because you need to give your dog the right amount of water. That's why this product has a convenient push-button so you can easily control the flow of water as it comes out of the dispenser. To dispense water, you have to push the button, and it will start releasing water to the bowl end. Release the button when you want to stop the flow when the bowl end is full. It also has a lock feature to prevent the water from backflowing that causes are leaking.
Food Grade
Animals, too, need clean and potable water. Good thing this product is from food-grade material. So, it is safe to come in contact with food or water. Moreover, it does not have toxic substances that may contaminate your pet's drinking water.