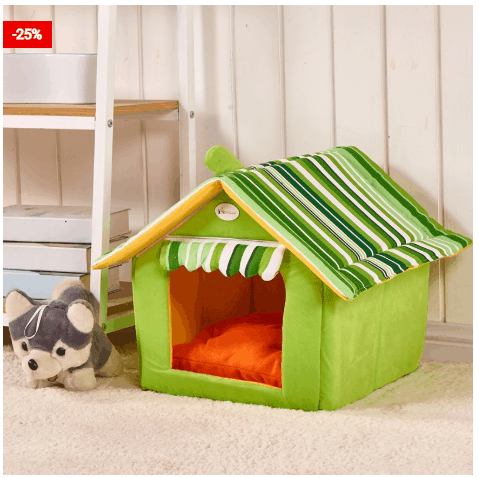 The product is an excellent pets dog house bed that has a removable cover; It can provide comfort and protection to your pet. The whole material is soft, warm, and breathable; Your pet will love sleeping inside it because it makes them feel secure.
An adorable gift to your furry little friend; It is easy to set up and also washable. The material is cotton, and the weight is 600-1500g. The sizes are small length is 35cm/13.8inches, height is 30cm/ 11.8inches. The medium length is 40cm/15.7inches, and the height is 35cm/13.8inches. The large length is 50cm/19.7inches, height is 45cm/ 17.7inches. The extra-large size is 55cm/ 21.7inches, height is 50cm/19.7inches.
Features Of Pets Dog House Bed With Removable Cover
This Dog House with removable cover is an excellent bed that you can let your pet use. It can make your pet feel comfortable and safe. Additionally, it is suitable for dogs like Shih Tzu, Dachshund, Bichon Frise, and also cats like Siamese, Devon Rex, and Singapura cat. This pet bed is available in small, medium, large, and extra-large sizes.
You can choose the size that is appropriate for the size of your pet. If you are a pet lover, then this is a beautiful house bed for your pets. Other than that, you can also let your pet use some blanket during a cold-weather climate. Your house pets would love this beautiful house bed because it is unique, and it can make them feel that they have their personal space inside your humble abode.
Pets Need A Comfortable Bed
Pets always need a comfortable bed so they can rest and sleep without feeling any pain or discomfort. You cannot let your pet lie down on the hard ground because pets are also like humans. If you treat your pet dearly, they will feel how you love them, and your house pet will always have your side in any situation.
They can be a good companion whenever you need a friend. Seeing your pets running towards you as you go home can make you feel happy and contented. Your pets can make you feel special; that is why it is essential to make them feel the same way too. You have to give proper food, shelter, and all-day comfort to them.
Adorable Dog House Bed
This dog house bed is cute and soft. Your pet will love sleeping inside this material. Aside from that, this is made of cotton material, and you can easily remove its cover.
It's an excellent bed that you can provide to your pet because its mat inside can let him sleep well at night. Animals have got a bigger heart than humans.
Maybe that is why dogs are considered as the most loyal animal. Dogs are just not loyal but also trustworthy, loving, caring, and can show purer emotions than humans. This is the reality of the new ruthless human kingdom.
When puppies playing in the garden, enjoy a lot with their master. Puppies are the best friend of the masters and are very loyal. Animals are amiable if you care for them and protect them.