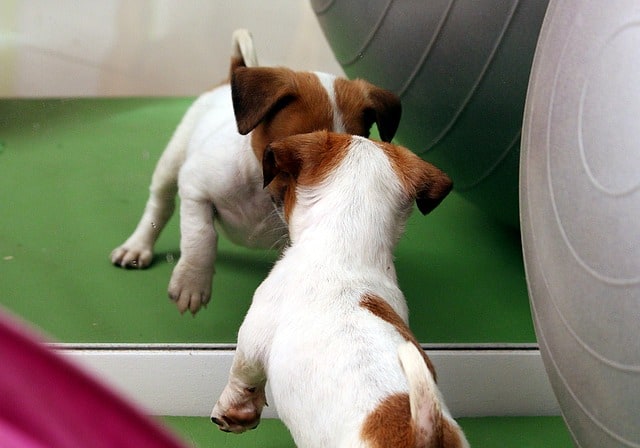 Pet Mats are specially designed mats for pets at home. They keep your pets comfortable and happy when they sit on these mats. Just like human beings, pets also search for their comfort zone. When someone adopts a pet, they should keep in mind that they provide them with excellent facilities. The street animals like cats and dogs also try to find their comfort zone in places available near them. So, we should make sure that we give complete comfort to the animals as well. Pet Mats let the pets sit and sleep comfortably wherever they want to sleep. They enjoy their time even playing on those mats.
Let your dog enjoy the comfort of seating with this particular mat for dogs which has a cooling effect. A perfect rug for dogs if you have pet dogs at home. Some people don't have a clear idea that even dogs feel hot and they cannot bear high temperatures. It is a very wrong idea as dogs feel more heat than human beings, and they cannot sustain it. Difference between humans feeling hot is sweating, and dogs feeling hot is panting. They can keep themselves warm during winter seasons. So, this is the main reason why they feel hot in the summer season. As dog owners, you should get your pets this cooling mat to keep them fresh during summers.
Features Of Dog Cooling Mat Pet Accessories
This mat provides a cooling effect to your pets for comfortability during the summer season.
You don't need to freeze or cool them as they are self coolants.
It is a travel-friendly product as the cooling gel activates on pressure.
It is made up of nylon fabric material with the sponge and cooling gel.
Pet Mats: How It Works?
The materials that this cooling mat is made up of are the primary cooling materials. The gel in it activates on pressure when your dog sits on it. There is no need to freeze or cool it to give it a cooling effect. This Dog mat is a self coolant itself. Your dog will feel very comfortable to lay down and play on it. Your dog may typically sleep on it, or you may place it on their bed. There are various designs and sizes available, according to your preference you may get one.
Pet Mats: Free From Toxicity And Safe
The safe gel is used in this mat, so you don't have to worry about your dog's wellness. But you should know that it's safe for the dogs to lay down but not to eat or chew them. As we know that every dog has chewed and ripped off tendency so you should be careful about this thing. The best part about these mats is that they are so lightweight that they can be carried anywhere. They are ideal for usage in both outdoor and indoor, so your dog can sit on it comfortably anywhere. They can be easily stored and are even pocket-friendly to be bought for your pet.
Conclusion
Thus, you should facilitate your dog with this dog mat. Your dog must also have comfortable living environment just like you.