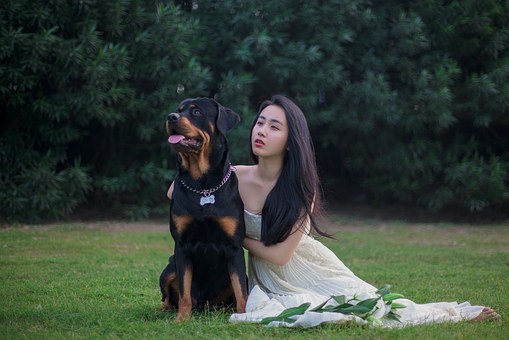 Rottweiler Puppies are easy to train dogs. They are submissive dogs who want to please their owners. It makes Rottweiler Puppies easy to train. If you invest a little time every day, they will become pleasant and happy. Rottweiler puppies are known to carve their position in the human family.
How To Train Rottweiler Puppies?
It is best to start early. Spend a minute or two till he is six months. Gradually, the training time can go up. If too much time is spent, the puppy may lose attention. It is important to encourage the puppy to learn. Rewarding him with tasty treats when he performs well, is a good option. The puppy's mind then registers that he should perform better to get a prize. The puppy must learn simple commands. Keep your commands short with a kind voice. If you are too loud, the puppy may get scared. Have patience. Never yell or hit your puppy. Teach one thing at a time. You can have a set of 15 repetitions for each command. Do not expect your puppy to learn everything at one go. He may get confused and not learn anything at all. Reward him when he learns a new trick or a command. Puppies also go through teething.
Therefore, it is important to have toys handy for him at all times. Teach him not to bite. He should rather nibble his toys. Mock yelping or squealing if he nips at you. He will assume that biting ends the game. Do not tap a puppy on the nose. It may excite him to bite. If you want your puppy to behave when guests are over, teach him to stay quiet. Dogs often bark when there are strangers around. Teaching him "quiet" command and then rewarding him will help. The puppy will understand how you want him to behave at a certain time.
The Power Of 'No', 'Sit',' Stay','Come'
These are the key commands every Rottweiler puppy needs to learn. It makes the owner's life simpler. The command registration in a puppy's mind may take time. Once he understands, he will follow it till his last breath. The Rottweiler puppy is an intelligent species and he will please his master. It is very easy to groom him. He does not have a complicated behavior like many other dogs. Your command should be firm and kind. The puppy should know that you mean your command. By consistently rewarding him, he learns the commands well. Treat him by saying 'smart puppy, 'good puppy'. He knows you mean well and will pep up. It is important to have one-word commands. The puppy does not have a vocabulary. He will recognize your lip movement and act in accordance. You have to see step by step improvement in the puppy. He will never jump to the last step. He will take his time and learn well. The size of a Rottweiler is medium to large. If he is left indisciplined, he may cause distress to the master.