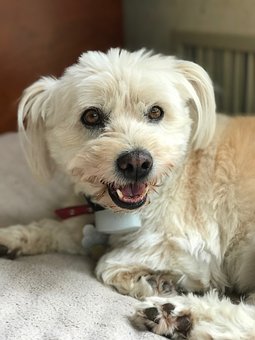 Hailing from Cuba Island, the Havanese is a delightful dog breed that has a lifespan of 15 years. However, this is not something that you need to take for granted. Always keep in mind that it is the quality of your canine's diet that determines its longevity and health. Therefore, it is essential to put in good time and effort in finding the right food for Havanese puppies.
Health and Temperament
Before understanding the diet requirements of a Havanese pup, it is necessary for you to know its temperament and also its health needs. This is a toy dog breed that weighs around seven to thirteen pounds and measures 8.5 to 11.5 inches tall. These are small dogs, but they pack a lot of personality and energy. Therefore, they need to be fed well to be active throughout the day. They are quite intelligent as well, and love making their very own games. This dog breed excels at sports and obedience training. To be very brief, they are healthy dogs with low maintenance coats.
Diet For A Havanese Puppy
A Havanese puppy requires at least 8% of crude fat and 22% of crude protein in its regular diet for supporting healthy development and growth. Since it is a small dog breed, the adult dogs have a fast metabolism, but this is not the case with the young puppies. They require extra energy while growing. So, the right thing for you to do is choosing high-quality food products specially formulated for small or toy breeds. This helps in ensuring that the energy and the nutrient requirements of your pup are perfect.
Havanese Nutrition And Diet
Before taking a look into Havanese nutrition and diet, understand that different dogs do not have different nutritional requirements. Basic nutrition for a canine is similar across the world. However, there can be certain differences in energy requirements of some breeds. Some dog breeds like the Havanese can benefit from only specific diets depending on their health condition and profile. Speaking of Havanese nutrition and diet, these dogs require three crucial nutrients. They are:
Protein
Proteins are amino acids that help in building healthy tissues, organs, muscles, and cells. The puppies in this category require a lot of protein for sustained growth. The adult Havanese dogs require proteins for maintaining muscle mass.
Fat
A Havanese pup requires good portions of fat that can help in gaining energy. Since it is a small dog breed with a fast metabolism, it requires good fat content in its diet.
Carbohydrates
This is one nutrient that is not as important as the other ingredients. Experts in the field have always been perplexed whether it should be included in a canine's diet or not. Regardless of what you believe, the Havanese dog breed requires carbohydrates for essential minerals and vitamins along with dietary fibers.
Okay, now that you have an idea of the nutritional requirements of Havanese puppies, it is vital that you select their food carefully. Always choose formulas that come with guaranteed analysis results on their packages.