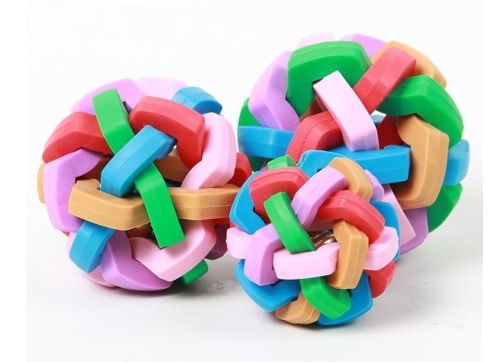 Dog toys not only entertain your dogs but also stimulate them mentally. They are great for imparting intellectual benefits to your pets. Toys made especially for dogs help you spend time with them and also strengthen your relationship with them. There are some dog toys available on Amazon which have topped the charts in 2020. Let us have a look at them.
Best Dog Toys Of 2020
Benebone Bacon Flavored Wishbone Chew Toy
Chew toys are very useful both for the dogs and for the pet owners. These curb the tendency of the dogs to chew everything that comes in their vicinity. As a dog owner, you can give this chew toy to your pet to keep it busy. Available on Amazon for $11.59, this Benebone chew toy has a real bacon flavor that your dog will love. It is ideal for dogs under 70 pounds.
Haute Diggity Dog Muttini Bar Collection
This unique plush toy is a great gift idea for your pet-loving friends. This one will give your dog the idea of having a vodka or beer just like you. It is available on Amazon for $13.99 for Lick Croix. The Barkweiser is priced at $15.99 and the Red Bulldog is priced at $15.i99 as well.
Chuckit! Ultra Ball
This cool toy encourages exercise and playtime. The balls also add an added element of fun with their buoyant and bouncy material. This toy is made from rubber and they are quite easy to clean. These are available in 5 sizes priced between $4.99 to $90.73 depending upon the size.
KONG Rubber Dog Chew Toy
This rubber chew dog toy has been the best-seller on Amazon consistently. It provides an excellent jaw workout for your dogs. You can toss it and it will bounce all over. Your dog will love to fetch it. You can also fill it with peanut butter and freeze it. Your dog will love licking it for hours.
Shop These Cool Doy Toys For Your Beloved Pet
Ball Toy Dog Chewing Dog Tooth Ball
This cool dog toy can be purchased online. This lovely ball is the perfect gift for your beloved pets and also for all your friends who own a pet. It is quite safe and non-toxic. Your pets can chew on it for as long as they like. It does not need any battery, but it produces sounds when being rolled. The chew toy can be used for grinding teeth, playing fetch and more. It is made from rubber. The big one measures 15 cm and the small one measures 10 cm.
Attractive Ball Toy For Pet Dog
You can also consider buying this ball toy for your dogs. This one is available in assorted colors. It has a beautiful design and also makes for a great gift for pet-owners. It is a good toy for entertaining your dogs and also for training them. This toy comes with a cute little bell on one side to call your pet's attention. It is available in small, medium and large sizes. It is made from plastic and metal ball.