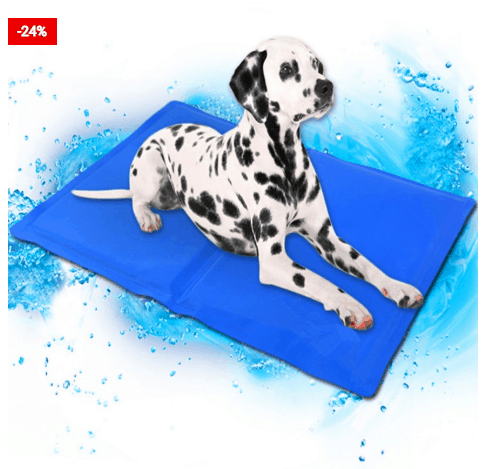 Keep your furbaby feeling relaxed and comfy with the dog cooling mat! If you have pet dogs at home, then this is the product for them. There's a misconception that dogs can endure extreme temperatures more than humans can. The reason is that dogs don't sweat; their way of cooling themselves is only through panting. Also, they have thick coats to keep them warm in cold seasons. But, it's also the very reason why hot climate affects them more. During the summer season, help your pets cool off with this mat.
Features Of Comfortable Dog Cooling Mat Pet Accessories
The Dog Cooling Mat helps keep pets cool and comfortable during hot climates. It cools on its own; no need to freeze or refrigerate the mat. The cooling gel is pressure-activated and nontoxic; It is travel-friendly. The material of the product is Nylon fabric, Sponge Foam, Cooling Gel.
Sometimes we think that what can get for their dog to wear so this product is the answer to such thoughts. Keeping the pets clean, getting them great things will make them happy, and you will even enjoy more with them. Such caps look smart and different on the pets, and the dog is such a pet that you take everywhere. If humans can wear caps, then why not dogs, they can even cover their head when they go out in the sun. You can get the same color cap for you and your dog and enjoy a twinning time with your dog. The material of the product is soft, so it will not harm your pet in any way. The price is reasonable, which makes it affordable.
How Does It Work?
The cooling mat has three primary materials: nylon fabric, sponge foam, and gel. The gel is a pressure-activated cooling gel that dogs benefit from when they sit on it. You don't need to freeze or refrigerate it to make it cold. The mat cools on its own. It is soft and comfortable for your dog to lay on. You can place it on top of your dog's bed, or they can sleep on it. You can choose from various designs and sizes, too, depending on your preference.
Safe And Nontoxic
The gel inside the mat is safe and non-toxic. Yet, this doesn't mean that It is safe to ingest. It's important to still check on them from time to time, as dogs tend to chew or rip things. They might swallow the fabric or other parts, which could be fatal, so remember to keep an eye on them. What's great about these cooling mats is that they are lightweight and portable. They are also ideal for both indoor and outdoor use, so your dog can use it anywhere. Finally, they are affordable and are designed to allow secure storage.