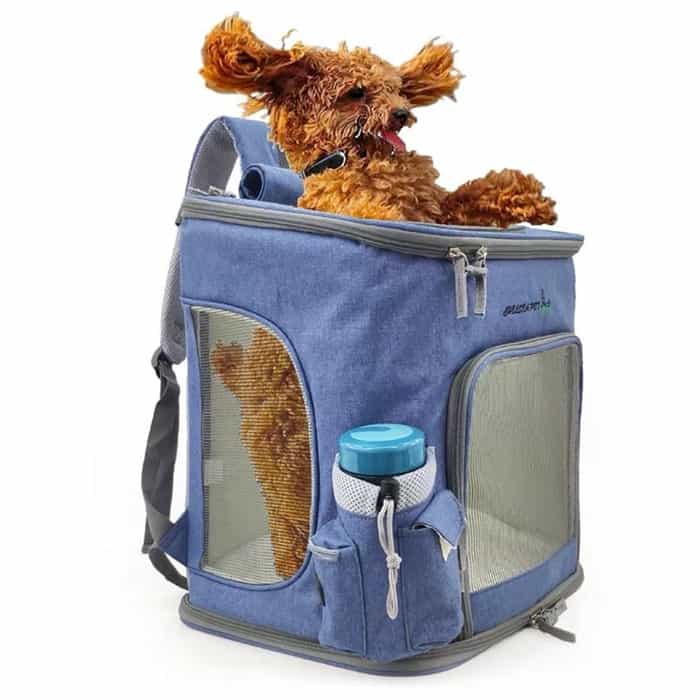 Want to keep your fashion when bringing your dog to places? How about getting yourself stylish dog carriers that could match your #OOTD?
Puppy parents would love to bring their furbabies with them anywhere they go and some of them, other than caring for their dogs, they also have this "passion for fashion".
If you're this dog parent that's being talked about, here are 7 stylish dog carriers for puppy parents to choose from.
Let's start with a simple sling bag. It is made of breathable cloth material which keeps pets relaxingly tucked in. It is designed with a zipper enclosure for an adjustable neckline, suitable for small puppies, and also available in different colors. A cool dog carrier for cool dog parents.
If the previous style was too manly for you, how about a cute sling dog carrier just like this one? Its design is suitable for fashionable dog mothers. This is reversible, good for travels and easy to carry. It is foldable, washable, very soft, and keeps your precious pup comfortably supported.
If you are not a sling bag user, here is a dog carrier backpack for you. It is completely padded for both the dog and the owner's comfort. It is designed with a double-zipper enclosure, a bell-strap for secure hold, and the head whole for your pup is made adjustable. This dog backpack is also perfect for mountain climbers, hikers, or dog parents who are up for sporty activities.
For normal occasions, how about a stylish denim dog pack to complete your look? It can fit any wardrobe since the color selection could match anything. Its denim fabric is soft and comfortable for dogs. Not only that, it's designed with holes for your little fellow's legs and tail to move freely. This dog carrier is also built with a safety buckle to prevent your pet from jumping out of the bag.
For classic lovers, here's an improvised two-way head zipper travel dog carrier. This is usually required for dog parents who travel via plane or ship. It is lightweight, soft, foldable, and covered with enough holes so your pet could catch some air from any sides. This product is also available in different colors.
Here's a dog backpack with a very convenient and stylish design. It has a large capacity for your dog to move freely while being securely locked inside the bag. As you can see from the photo it is furnished with breathable holes so you don't need to worry for suffocation and it has side pockets and a water bottle holder. Perfect for dog parents who love to head out and play with their puppies outdoors. This dog carrier is also available in different colors.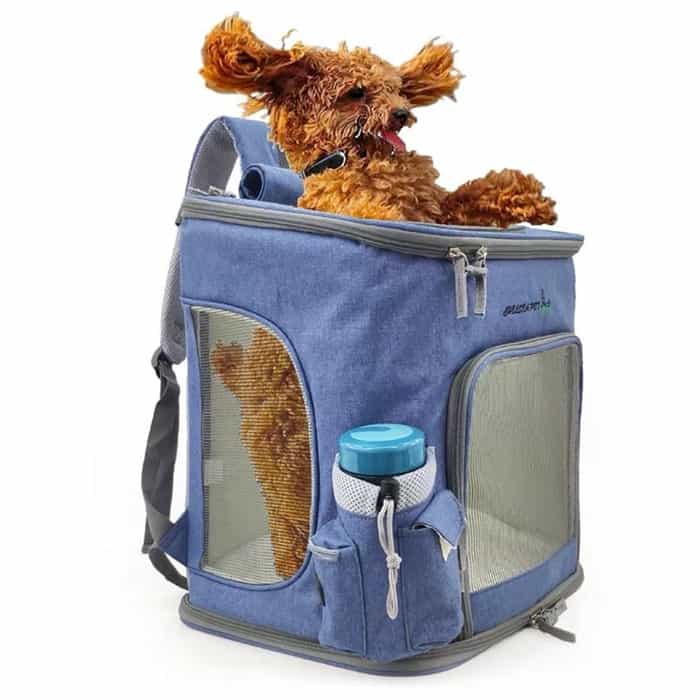 For a dog parent who has more than one furbaby, rather than buying one dog bag for each pup, here is a double cart cage for you. Instead of carrying each of them, you could just push this fashionable stroller and bring them with you hassle-free. This dog carrier is perfect for dog parents who love long walks. It is high-quality, breathable, comfortable, and designed with a wide view of your dogs. A back-pocket is available at the bottom part of the stroller for more storage. This stroller is also available in different colors.
These selection of bags are more appropriate than just grabbing a bag from your closet that would fit your dog. Remember, always consider their convenience as well. You wouldn't want to stress them out.
These options should be enough to show you that there are a lot of dog bags to choose from. If you like everything then just get them all. Kidding aside, prioritize what you need.