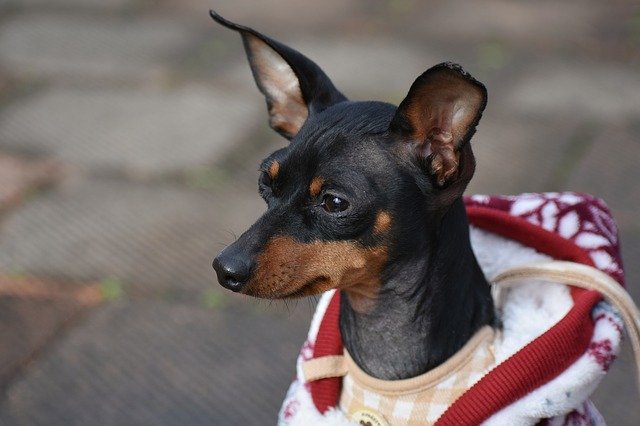 Can't get enough of your puppy? Taking photos of them all the time? How about you try to put on some dog clothes for them? Why not! For a pretty pet like yours, you might want to glam them up. After all, clothing your dog is also a way to express your love for them.
Show how fashionable your pups could be with these adorable dog clothes.
If you want to start simple, this dog scarf could be a good choice. It is simple yet fashionable, made of breathable clothing comfortable for your pet to wear and it can be used as a drool bib. As you can see, there are lots of designs to choose from. This dog clothing is built with an adjustable bow tie. It is available in different designs and sizes.
For cartoon fanatics, this puppy clothes might peak your interests. They are made of soft cotton clothing, convenient for your precious dogs to wear. If you want to bring them to a costume party, this piece of dog clothing would be the perfect attire. It is available in different sizes and with other cartoon characters to choose from.
Complete your dog's outfit with these cute anti-slip socks. These socks are fashionable and trendy which makes them perfect for photoshoots and dog OOTDs (Outfit Of The Day). With its anti-slip function, your dog will still get a good grip on the ground and will also prevent them from cuts and unwanted accidents. Other designs are available for these socks.
Want to walk your dog but it's still winter? This jacket will keep them nice and warm and it comes with a hoodie. It is made of cotton, prevents your puppy from feeling irritated and itchy. It is also in high quality which makes it long-lasting. This dog clothing is useful and fashionable at the same time. Available in different sizes and colors.
In some unavoidable situations, there would be times when your dog would want to play in the rain. If that would be the case, you might also want to consider having a waterproof coat hoodie for your furbaby. This dog clothing is made of polyester/cotton which will protect them from sickness so no need to worry about that anymore. Go and have some fun with that little fellow in the rain.
A waterproof set won't be complete without waterproof shoes so here's a dog shoe suggestion for you. It is made of a waterproof fabric designed with reflective strips to keep your furry friend safe even during night walks. This anti-slip waterproof set is available in different sizes and colors.
Others would say that there's no need to give dogs clothes since they are just "animals". Well, that's what others think. When it comes to you and your dogs, everything you give them, and everything you do for them is your choice to make.
As dog owners, you feel a special connection with them so they will appreciate everything you do for them. In this case, the simple effort of clothing them, thinking of what they'll wear on a certain occasion, will surely get your dogs excited.
What other people say are just opinions, it doesn't necessarily mean that you should listen to them. What matters is what you want for your furry little friend.