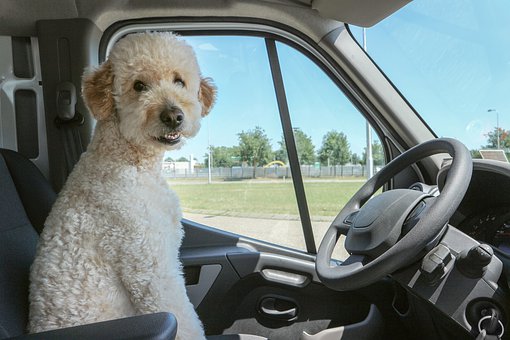 Whether you are embarking on a road trip or running errands in the neighborhood if your puppy is accompanying you, there are some essentials that you should not miss out on. You do not know when a family emergency, an unexpected opportunity, or a completely flat tire might result in plan changes. Therefore, having a few puppy travel essentials will give you the chance to turn on a dime and relax. You will be fully assured that the requirements of your pooch will be duly met and so there is no need for you to worry. Hold on…are you thinking about the things that you need to have handy? Wallet, phone, reservations, keys, furry friend – wait and check. The list below will give you a last-minute jolt.
Puppy Restraints
This is probably one crucial thing that puppy parents seem to miss out on. You should always carry the different tools that can help you in restraining your pet. Regardless of whether you have chosen seat-belt harnesses or a secured crate or carrier- make sure to find out ways that can help you in coming home safely with your canine friend.
Water And Food
Pack up water and food in the right quantity for your cute little companion. Also, ensure that you have brought sufficient wet food and kibble for the whole tour. Few snacks would also be highly appreciated. Merely because you are going for a trip does not mean that you have the flexibility of skipping the regular diet schedule of your canine. Stick to its daily diet for preventing all kinds of health problems. Always make proper arrangements for your pooch to stop over to empty its bladder. Carry special containers for providing water and food on the go.
A Picture of Your Canine Friend
Yes, you can make extra space in your phone for fitting in the hundreds of vacation clicks. But make sure not to clear the images of your pooch. You should have at least two or three images of your pup to prevent possible issues. Many accommodations want their guests to provide visual confirmation of pet ownership in case the pet gets lost, and you need to pick it up somewhere. So, it works to have a clear image of you and your puppy together without including any other thing in the background. Always remain prepared for emergencies.
Poop Bags
You cannot forbid your pooch to go on with its routine of peeing and pooping even though you are traveling. After all, they are animals, and they will not follow any instructions when the need arises. Therefore, it always works to have a healthy supply of poop bags or waste bags. Go for environmentally-friendly waste bags within a range that you can afford.
Medicines
If your pet is on medications, make sure that you are carrying them with you. Even if you are not able to manage the home schedules, offer at least one dose of required medicines to your pup during the journey.
Puppy travel can be an expedition and great fun, but only when you are fully prepared for the good and the bad.